Employment Opportunities
The Colbert County Commission is accepting employment applications
for the following positions:
Criminal Clerk, Full Time - Colbert County Sheriff's Department



QUALIFICATIONS:

[Click here for qualifications]



JOB REQUIREMENTS:

[Click here for job requirements]

Full benefits and State retirement.

**Job description and application are available at the Shoals Career Center.


Deadline for applications is April 23, 2021




Posted to this Website: 04/05/21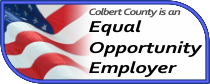 **Applications and Job Descriptions are available at the
ALABAMA STATE EMPLOYMENT SERVICE - Shoals Career Center,
500 S Montgomery Av, Sheffield, AL (256) 383-5610 (Located in the Towne Plaza Shopping Center)
Mission

Statement

Provide quality services as provided by law or mandated by the public, to enhance the health, safety and general well-being of the citizens and promote industrial and economic development of Colbert County.

Guiding Principles:
Conduct County operations in a legal, ethical and fair manner.
Conduct the public's business in a manner that is responsive, accessible and open to all.
Provide professional leadership and operational excellence.
Recognize that County employees and volunteer citizens are the foundation upon which these services are provided.
Promote Industrial Development
Contact

Us
Address:

201 N. Main Street
Tuscumbia, AL 35674

Telephone:

(256) 386-8501

FAX:

(256) 386-8510
Colbert County is an equal opportunity employer.