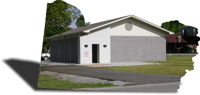 Colbert County Community Storm Shelters
As part of Colbert County's commitment to being 'Storm Ready' and with the aid of FEMA (Federal Emergency Management Agency) grants, the Colbert County Commission has erected Community Storm Shelters in twenty-two locations throughout Colbert County with additional shelters being planned. Built of reinforced concrete or steel, these shelters are designed to provide our citizens with safe harbor during severe weather conditions in the County.
Shelter Locations in Colbert County
*Shelter openings are initiated upon the onset of "Severe Thunderstorm Warnings" issued by the National Weather Service or when wind speeds are officially recorded as 50mph or greater.
Click the Shelter name to open that location in Google Maps (note that some shelters may not appear in satellite imagry that hasn't been updated by Google).

SHELTER
ADDRESS
COMMUNITY
LONGITUDE
LATITUDE
ALLSBORO
959 OLD NATCHEZ TRACE RD
CHEROKEE
-88.112256
34.69211
MAUD
535 GYPSY LOOP
CHEROKEE
-88.110789
34.643018
BARTON
53 PLAZA CT
CHEROKEE
-87.904419
34.736821
ROSE TRAIL PARK
43 ROSE TRAIL PRK
CHEROKEE
-88.084150
34.854190
CHEROKEE
1211 2ND ST
CHEROKEE
-87.969277
34.756610
LEIGHTON
8856 MAIN ST
LEIGHTON
-87.528600
34.702286
LAGRANGE
1648 WALDREP LOOP
LEIGHTON
-87.546799
34.583246
UNDERWOOD CROSSROADS
12495 COUNTY LINE RD
LEIGHTON
-87.529463
34.755627
LITTLEVILLE
1448 JACKSON HWY
LITTLEVILLE
-87.674694
34.600815
NW SHOALS COMMUNITY COLLEGE
105 STUDENT DR
MUSCLE SHOALS
-87.677573
34.742557
COLBERT ALLOYS PARK
267 ALLOYS PARK LN
MUSCLE SHOALS
-87.499471
34.799509
FORD CITY
14439 COUNTY LINE RD
MUSCLE SHOALS
-87.529498
34.783856
NITRATE CITY
982 7TH ST
MUSCLE SHOALS
-87.559460
34.756962
SHEFFIELD REC CENTER
1920 NE 29TH ST
SHEFFIELD
-87.691785
34.770998
RIVERMONT
423 PICKWICK ST
SHEFFIELD
-87.719149
34.738522
MANNING HOMES
2312 NW 15TH ST
SHEFFIELD
-87.710054
34.760672
DENTON RD
2844 DENTON RD
TUSCUMBIA
-87.652804
34.697487
CHARITY CHAPEL
2999 FRANKFORT RD
TUSCUMBIA
-87.799682
34.585288
LOCUST SHORES
74 GOLDEN RD
TUSCUMBIA
-87.789746
34.718536
COUNTY YARD
914 S HICKORY ST
TUSCUMBIA
-87.693256
34.722658
COUNTY ROAD DEPT
2842 HIGHWAY 20
TUSCUMBIA
-87.623501
34.691662
HWY 247
4651 HIGHWAY 247
TUSCUMBIA
-87.906033
34.626586
COLBERT HEIGHTS HS
1614 SUNSET DR
TUSCUMBIA
-87.701378
34.668293
SPRING VALLEY
7147 COBURN MOUNTAIN RD
TUSCUMBIA
-87.613291
34.638250
These shelters are available to the citizens of Colbert County and our visitors when severe weather situations threaten. The shelters will remain open until the threat of severe weather has past; or at least for the duration of the "Warning".
If you'd like additional information regarding our community storm shelters project, you can contact us at the phone number or address listed on the left panel of this page.

STATIC RADAR IMAGES
FROM AROUND THE REGION
Huntsville

Birmingham

Columbus Air Force Base, MS
Memphis, Tn

Jackson, MS

Colbert County Emergency Management Agency
Last updated on 04/06/2017